5 Suggestions for Parenting a Teenager When Substance Use Is at Risk

By
Stonewater Recovery
·
2 minute read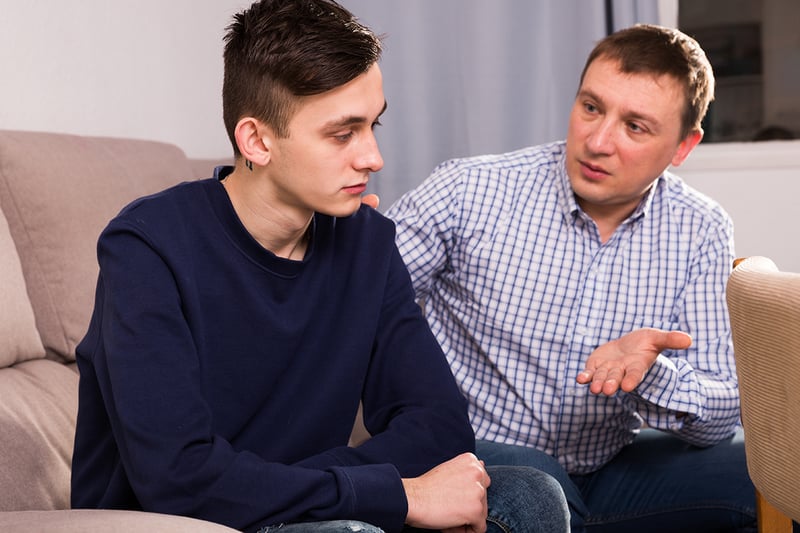 Parents are either the first to know or the last to know that their children have developed a substance abuse problem. Substance use in adolescents can develop quickly and take a strong hold. As parents, you have the opportunity to keep your child engaged in honesty and faith-based qualities emphasized by the family structure. Here are some suggestions for maintaining a healthy relationship with your child during the substance-use-prone years of adolescence. Furthermore, if you're parenting a high-risk teen for substance use, it's vital to know that you're not alone. The experts at Stonewater Adolescent Recovery Center are here to help. To learn more, contact our residential substance use treatment center today.
Keep The Conversation Going
An open dialogue with adolescents can be especially hard to sustain when they decide you, the parent or caretaker, aren't cool anymore. Your questions become inquisitions, your laughter becomes invasive, and your invitations for spending time together become atrocities to the sanctity of their self-esteem. It's a trying time for parents. Without being clingy or needy for their attention, keep an open air of honesty and trust in the household. Let them know you're always available. When they do talk, use active listening and reflective listening skills to make sure you're really hearing what they have to say.
Stay Aware Of Symptoms
You might be aware of personality traits, character traits, or symptoms of an actual mental health diagnosis your child has. There are many symptoms which are mistaken for hormones, puberty, or teenagehood which could be indicators of a growing problem with substance abuse. Stay aware of problematic symptoms and, when necessary, refer to a professional.
Regulate Social Media Use
Social media is increasingly being proven to have a negative effect on adolescents from mental health to bullying to body image issues. As a result, cyberbullying, obsessive online searching, and even compulsively using online games could lead to poor mental health. This condition further opens them up for vulnerability toward substance abuse.
Lead By Example
Getting drunk or using drugs recreationally in the household accompanied by a Do as I say, not as I do mentality is not effective in trying to prevent substance use in adolescence.
Ask For Help
Do you suspect your child might be developing a substance use problem? If so, it is important to contact a professional for help as soon as possible. For example, general doctors and family therapists are helpful. Furthermore, they can recommend you out to interventionists, specialized counselors, or treatment centers. In addition, an adolescent substance use treatment center, such as the one at Stonewater Adolescent Recovery Center may be useful. However, it's important that you reach out for the help you need. At Stonewater Adolescent Recovery Center, we provide a helpful range of treatment programs. Whether your teen or adolescent struggles with alcohol use, marijuana use, or heroin use, we can help. Furthermore, we also provide dual diagnosis treatment for teens. This treatment method is ideal when substance use is coupled with a mental illness. With a simultaneous treatment of both conditions, your teen has a better chance of managing their health in the long-run. Our dual diagnosis treatment center offers many programs, including:

There is a plan for you and your family. If substance use has become part of God's plan for you, Stonewater Recovery Center is available to help. Our residential treatment programs for adolescent substance use helps each patient find their purpose and direction through faith and clinical recovery. For more information about parenting a high-risk teen for substance use or our exceptional treatment programs, contact Stonewater Adolescent Recovery Center today by calling 662.373.2828.