Have the most effective interactions with your teenage boy with these 4 steps

By
Stonewater Recovery
·
2 minute read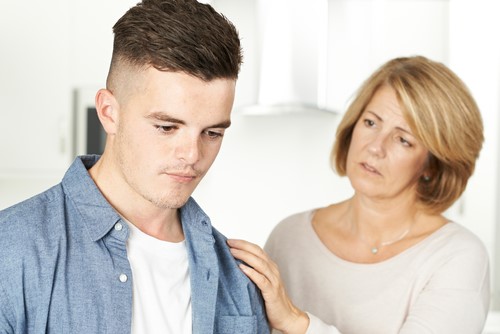 We relish the idea of being able to have a drama-free, drug-free life when our teenage boy enters treatment for drug and alcohol addiction. Quickly we learn our time of enduring patience has not reached its end. As our boys grow through treatment, we have to continue meeting them exactly where they are in order to effectively interact with them.
Avoid making it all about you:
You're
elated
that your teenage son is interested in spending time with you, getting close to you, and wanting to have a regular relationship with you. After years of frustration, fear, hardship, and worry when he was actively addicted to drugs and alcohol, this new turn in your lives is a blessing. You can't help but want to get your needs met- all of the needs that may have been put on the sideline while you were trying to save your precious boy's life. Your relationship with your son or the young boy in your life should be mutual- mutual respect, mutual care, mutual unconditional love. However, you are still the parent or authority figure in his life. When you interact with your teen, try not to make it all about you as if to say, It is finally my turn! Watch your emotional states, be aware of how much you do and do not divulge, and pay attention to what boundaries you set, as well as what boundaries you cross.
Encourage physical activity:
Have you ever noticed that when you try to just sit and talk with your teenage boy it seems as though everything you are saying goes in one ear and out of the other? Boys are not usually inclined toward verbal and auditory learning. With their high energy and surging testosterone, boys need to
move
. Go on a walk, go for a run, or spend some time working out together, playing sports, or doing other physically engaging activities together. He will be able to think more clearly, pay attention to what you said, and be more willing to listen to
you
because
you
were more willing to listen to
him
and his needs.
Be mindful of your physical boundaries:
You wish your son or teenage boy could just sit down, look you straight in the eye, and tell you the secrets of your soul. It isn't just your teenager who has problems with this. Boys in general have a hard time responding to direct verbal and nonverbal cues- which is why he tends to suddenly bring something up in the car ride to or from school. Though you want your teenage boy to interact in a very specific way, you might be pushing physical boundaries too far and in return, pushing your boy away. Compromise and engage with him on a level where he is comfortable. Remember, the process of recovery is challenging and strenuous. Your boy is working hard to overcome addiction and find the freedom of recovery.
Stonewater Adolescent Recovery Center is a private residential treatment program in Mississippi, serving adolescent and teenage boys with foundation building, life-cleansing programming for recovery. If addiction has found its way into the life your loved child, call us today for information on our clinical and academic support: 662-598-4214