Benefits of Nature Therapy

By
Stonewater Recovery
·
2 minute read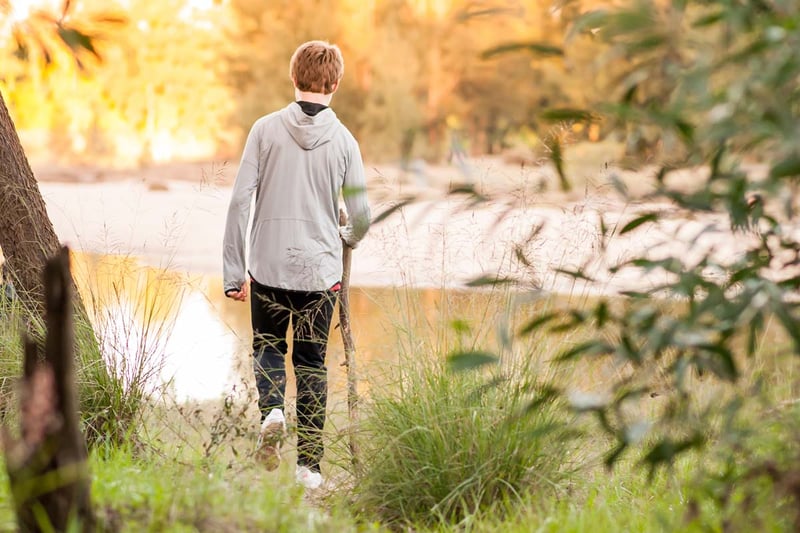 The benefits of nature therapy can help you or a loved one who is recovering from substance use. While there is a definitive need for medically-driven recovery components, such as individual therapy, family programming, group counseling, and more,

adventure and nature therapy programs

in Oxford, MS, at Stonewater Adolescent Recovery Center

have a substantial influence on the recovery process as well.
What Is Nature Therapy?
Simply put, nature therapy means getting outside and enjoying all that nature has to offer. Nature therapy can include anything from taking a walk around the grounds of Stonewater, hiking through a challenging trail to taking part in equine therapy.
Benefits Of Nature Therapy
The benefits of nature therapy have been researched, studied, and proven over a number of studies throughout the years. It's important to note that nature therapy cannot make the recovery process occur on its own. Instead, it is a supportive treatment that enhances the recovery process and provides numerous benefits that you can attain in a more organic, naturalistic form. The residents at Stonewater Adolescent Recovery Center can receive the following benefits from participating in our adventure and nature therapy programs:
Improved Interpersonal Skills
Group therapy sessions indeed allow you or your loved one to work on interpersonal skills. These typically occur in a more subdued environment that can make connecting with others more challenging.
By participating in nature therapy in the form of riding and caring for horses, for example, or fly fishing, everyone in the group is working toward a common goal. Being able to interact on this level can serve as a way to interact socially, which is more natural, connecting, and bonding, and therefore helps our residents improving their interpersonal skills.
Exercise in Nature
It's no secret that exercise delivers positive benefits to those in recovery. It helps your body release important pleasure hormones, such as endorphins and other desirable chemicals. These are the same brain receptors that are triggered when a person is struggling with a substance use disorder.
Finding a way to combine exercise and nature brings a whole new element to you or your loved one's recovery. Whether it's a friendly game of pick-up basketball, flag football, horseback riding, or yoga, exercising in nature gives you a double dose of the natural high that endorphins deliver.
Stress Reduction
To say that a person who is struggling with substance use disorder is under a great deal of stress is a significant understatement. Many people turn to drugs and alcohol as a way of coping with anxiety or depression. Unfortunately, they know no other coping mechanisms.
However, one of the many benefits of nature therapy is the fact that it reduces stress. There have been numerous studies completed that have shown the correlation between engaging in various forms of nature therapy and its ability to reduce the body's reaction to stress.
Lifelong Benefits Of Nature Therapy
A high-quality, adolescent substance use treatment center provides our residents with the tools they need to succeed in lifelong recovery. We teach how to engage in nature therapy effectively, even if they currently live in an urban area. This sets them up for a healthier recovery, as well as life now and in the future.
Stonewater Adolescent Recovery Center is a unique, adolescent, substance use disorder and dual diagnosis treatment program located in the rolling green hills of Oxford, Mississippi. Situated on 62 pristine acres of natural grasslands, our facility is the ideal place to experience the benefits of nature therapy. In addition to our adventure and nature therapy programs, we also provide:
Family-oriented programs and counseling

Accessible treatment

Dual diagnosis treatment program

Christian organization with faith optional programming

Alternative therapies, such as equine, art, and yoga
If your loved one is displaying troubling behaviors, we encourage you to call Stonewater today at 662.373.2828. Our compassionate and highly-trained team is ready to assist you.