Creating a Family Recovery Team After Treatment (Parents)

By
Stonewater Recovery
·
3 minute read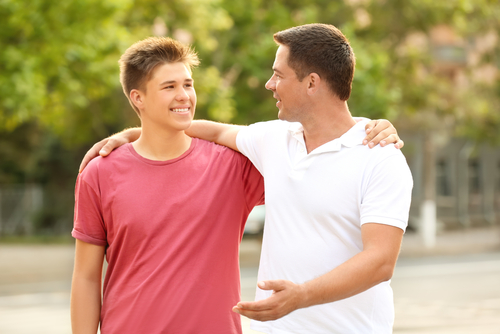 When a child in your household is struggling with an addiction, it's imperative that everyone in the home is on board with their recovery plan. Think about it like a team. If everyone is working towards the same goal, you will succeed. It takes one person to break the objective, and if that person isn't the addict, there is a weak link in the team that could cause harm to the addict's progress. The addict is already struggling to function and needs strong supports around them to maintain their health. When everyone works together, there is nothing but growth for the entire group.
The addict also needs to feel comfortable in their environment to thrive and grow and heal. If everyone is on the same page and holds space for the addict to communicate, make mistakes, and grow, there is room for success. What they don't need is constant nagging, people walking on eggshells around them, and negative reinforcement when it comes to mistakes.
This can be a difficult process and a fine line to walk. So how do we hold space and patience while keeping our teen accountable? Think about the best and worst teachers you've ever had. What did their classrooms feel like? How did they act? What made them standout—the good and the bad? It may seem silly to compare a teacher and a parent, but as parents, we are their first teachers. Kids consciously and unconsciously watch our behaviors and pick up the common traits in the household. Think about how you learned best as a teen. If a teacher put you down or caused you to feel embarrassed, did that help or hurt your academic progress? Then, look at the other side of the coin. What about the other teachers that were patient, kind, and got to know you personally? These are all behaviors and tactics we can use in our home to help the recovering addict flourish.
Where is the accountability? Think back to the classroom. A teacher doesn't immediately punish a student for making a mistake. They leave room to grow through teachable moments. We must do the same for our kids. We can be kind and patient and allow them to share, but we can also create boundaries for using and drinking. But that can't come from the principal alone. Those boundaries need to be created as a family, together.
After treatment, it's important to set some family guidelines together, for you as a parent, and for the teen that has just been through a very raw and healing experience. Working together will ensure everyone is held accountable and boundaries are clearly set.
Coping Together
There are many ways to connect through recovery but allowing for time away from sober talk and coping mechanisms is just as important as a conversation about boundaries. Everyone, addict or not, needs time to simply live and enjoy the moment. Here are some healthy options to bring the family together.
Game Night: Schedule a game night once a week where everyone comes together to eat, play, and relax. This can look like a Monopoly tournament, card games, charades, or Pictionary. Getting everyone involved and bonding over something other than addiction can boost household morale and bring the family closer together.

Scheduled Dinners: Get into the routine of a scheduled dinner night that isn't like the rest. Maybe every Sunday involves cooking a new recipe together, or maybe it's the one night of the week the family orders takeout. Make it special and create it in a way that makes the whole family want to get involved. Give the family something to look forward to.

Family Trips: Whether it's a planned vacation that's a flight away or a day trip to a local museum, plan out a fun excursion with your family. A mini-golf trip could be fun, but money isn't necessary. Look up local or state parks in your area and pack a picnic. Go on a hike or take a road trip to a new place. The possibilities are endless. Half the fun is figuring out where you could possibly go.
Time
Just because you plan the nights doesn't mean your son will want to jump into it with open arms. It may take some time to work him into the idea of a planned event together, especially if the intervention before treatment was emotional or forced. That's okay. Remember your best and worst teachers and work hard to maintain open communication. It can take an entire school year to get a student to open up. Over time, when he comes around, you will be there to ready to support.
If your teen has relapsed, you don't have to go it alone. Reach out to Stonewater Adolescent Recovery Center for help. Our welcoming staff and proven treatment options are here to support your son and your family in this time of need. Call 662.373.2828 today to get your team back on track.