Employee Spotlight: Meg Hayden

By
Elizabeth Fikes
·
1 minute read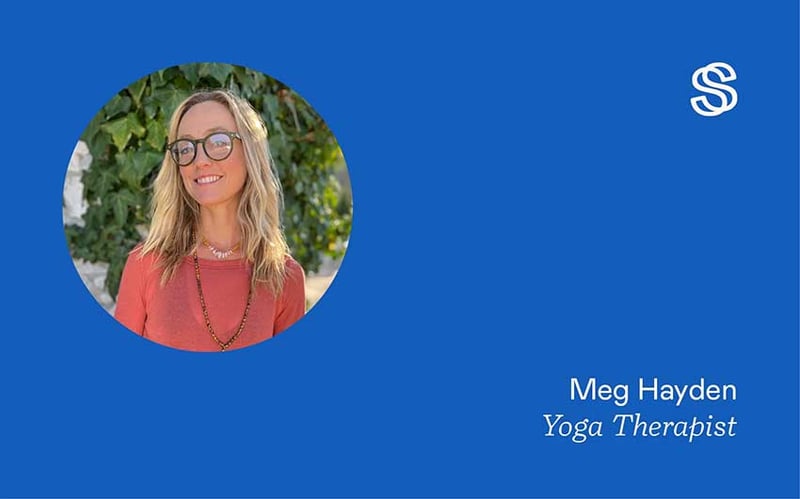 At Stonewater, we value love, respect, and treating others the way we want to be treated. Our monthly Employee Spotlight is a way to celebrate the valued individuals who keep our community going.

Stonewater is proud to offer a holistic program of recovery that heals adolescents from the inside out. One guide on that important journey is our yoga therapist, Meg Hayden.

Meg built an impressive and diverse career prior to arriving at Stonewater. She has a Bachelor of Arts, a Master of Education in Curriculum and Instruction, and an Associate Nursing Degree. She is also a Registered Nurse Compact in California, Ohio, and Pennsylvania, a Board Certified School Nurse, a BLS CPR Instructor, a Vinyasa-Hatha Yoga Instructor, and a Yoga Therapist. Meg holds certifications in Sexual Health Education, Yoga of 12-Step Recovery Leadership and Mindful Teaching, and an MDE Secondary Educator License.

As a woman in recovery herself since 2017, mindfulness, meditation, and yoga have been integral in Meg's own journey. Meg considers it a privilege to be able to serve the Stonewater community in the capacity of teaching others these helpful practices.
"There are so many things I love about working at Stonewater," she says, "like the incredible staff and the family atmosphere. My favorite thing about working here is definitely the residents."
Meg and the rest of the Stonewater team are also ambassadors for Oxford, the town that we call home.
"I love the small town feel of Oxford and all of the beautiful cultural richness that exists here through music, art, food, and literature," Meg says.
Before Stonewater, she nurtured adolescents in our local community by serving as the lead school nurse for the Oxford School District for 10 years. (Her son graduated from Oxford High School last year, and her daughter is in 5th grade locally.) When she's not leading the Stonewater residents through a meditation or flow, Meg can be found at the farmer's market, browsing new tracks from local bands at End of All Music, or curled up with her latest find from Square Books.
Above all, she says, "It is the most nourishing time of my week to come and share space and my practice with the Stonewater boys. They are all truly remarkable, and what a privilege it is to be a small part of their recovery and life journeys!"