How Do I Find the Right Recovery Support for My Teenager?

By
Stonewater Recovery
·
2 minute read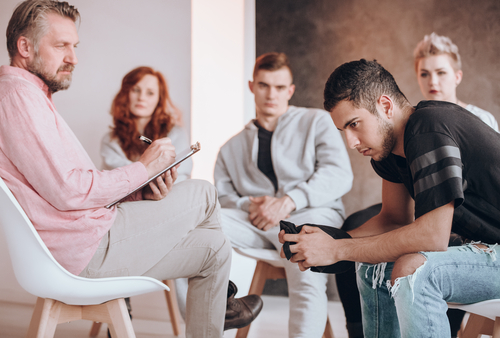 Addiction is a very lonely disease which makes people want to isolate and refrain from doing anything productive. People who are addicted to drugs and alcohol tend to hang out with other people who are addicted to drugs and alcohol, so they can justify their addictive behaviors with someone who understands and who has the same mentality they do. What addiction brings about in this scenario is unhealthy relationships that back each up other during the pursuit of remaining high and drunk amid the hardships of addiction.
While this illustrates a sick relationship in addiction, finding the right kind of recovery support in sobriety is necessary. Anybody who desires to stay sober must find the support that motivates them to continue on their recovery path or they will be in jeopardy of a relapse. Being around like-minded people and being honest with others who understand the torment that has been endured within the addiction, will propel someone to start building a solid foundation in recovery beginning with the necessary support.
Teens need to find support just like everyone else who is in a recovery support group. Sometimes finding an age appropriate setting for a teen can be difficult. The main aspect of support is to begin somewhere to give the teenager a chance at getting their feet wet in recovery.
Going to therapy or meeting with a counselor that treats patients with addictions can point them in the direction of local groups that would benefit the teenager.

Talking to a pastor about a biblical approach to recovery can help some teenagers who have already established good relationships in their church without worrying about condemnation.

SMART Recovery offers a recovery program with meetings and a workbook that are specific to teenagers.

Alcoholics Anonymous and Narcotics Anonymous is open to people of all ages and seeing teenagers in those meeting have become more common in the past decade. AA and NA also have young people groups in larger cities that can be found by calling central office or checking online.

Celebrate Recovery has an age limit that will help older teenagers in their time of recovery because there is an age requirement of 18 years old and older.
Looking for the best fit for your teenager will also show your support for their recovery. Joining your teenager on their recovery walk without trying to do it for them, can get them to keep going until they find the support they are looking for.
If you or an adolescent you know needs to get help for drug or alcohol abuse, Stonewater Adolescent Recovery Center can give you the guidance that you deserve. Establishing a strong network of family and community can reinforce practices for living substance free.
Call us today to start living in your recovery: 662-598-4214