Choosing the Best Online Therapy for a Teen with Anxiety: From Dual Diagnosis Care to Virtual IOP & More

By
Elizabeth Fikes
·
2 minute read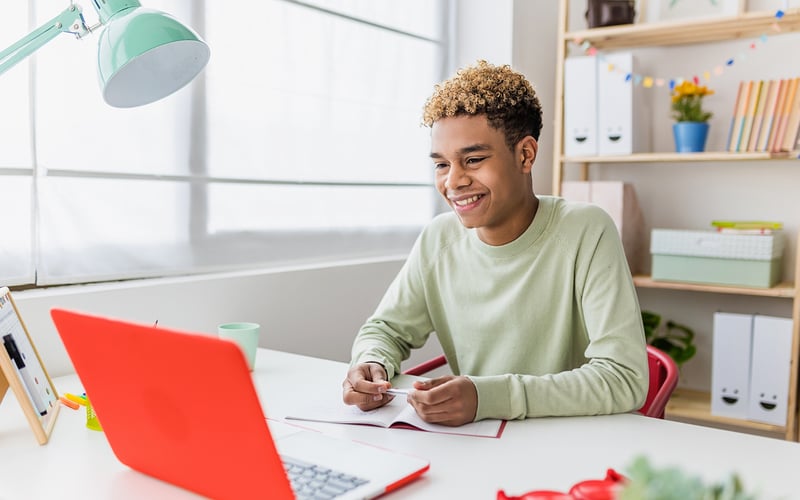 The teenage years can be a challenging period, filled with emotional ups and downs, social pressures, and academic stressors. For some young adults, this period becomes even more difficult due to anxiety disorders. According to the National Institute of Mental Health, an estimated 31.9% of adolescents between the ages of 13 and 18 have an anxiety disorder. The ongoing COVID-19 pandemic has exacerbated these issues, making it all the more important to find effective, accessible mental health care for struggling teens.

Online therapy has emerged as a viable option, providing flexible and convenient access to mental health support for teenagers and their families. Thankfully, there are multiple avenues of online therapy for anxiety allowing you to choose the best approach for your child.


What is Dual-Diagnosis Care?

The dual-diagnosis approach is designed to address the needs of individuals who are experiencing both mental health and substance use disorders — and this is true in many cases. According to a study in the National Library of Medicine, one group of young adults who were admitted to a psychiatric hospital primarily for mental health conditions included a 48% prevalence of dual diagnoses. If your teen is suffering from anxiety and substance abuse, their treatment needs to address both symptoms simultaneously.

When selecting an online therapy program for a teen with anxiety and a co-occurring substance use disorder, it is important to ensure the program offers the following:

Licensed mental health professionals experienced in treating both anxiety and substance use disorders.
An integrated approach to address both issues simultaneously.
Access to medication management, if necessary.
Virtual Intensive Outpatient Programs (VIOPs)

Virtual IOPs are a structured, time-limited treatment option designed for individuals who require a higher level of care than traditional outpatient therapy. These programs typically involve group and individual therapy sessions several times a week, which can be conducted via video conferencing or other online platforms. Virtual IOPs are ideal for teens with moderate to severe anxiety who require additional support and structure.

When evaluating virtual IOPs, consider the following factors:

The program's duration, frequency, and intensity of sessions
The therapeutic approaches utilized, such as cognitive behavioral therapy, dialectical behavior therapy, or acceptance and commitment therapy
The availability of additional support services, such as family therapy or academic assistance
Online Support Groups

Online support groups can provide a sense of community and understanding for teens struggling with anxiety. These groups, often moderated by trained professionals, can help adolescents connect with peers facing similar challenges, learn coping strategies, and develop a support network.

When searching for an online support group, consider:

The group's focus and target audience (e.g., generalized anxiety, social anxiety, or anxiety related to specific issues such as school or relationships)
The credentials and experience of the group moderator
The privacy and security measures in place to protect participants' information
Individual Online Therapy

Individual online therapy involves one-on-one sessions with a licensed mental health professional via video conferencing, phone calls, or text messaging. This option offers a high degree of flexibility and personalization, making it an excellent choice for teens with mild to moderate anxiety who may not require the intensity of an IOP or dual diagnosis care. As of late, there have been an influx of online therapy companies coming into the marketplace meaning you can, and should, be selective.

When choosing an individual online therapist, consider:

The therapist's credentials, experience, and expertise in treating adolescent anxiety
The therapeutic approaches they utilize
Their availability and communication methods
Next Steps

Choosing the best online therapy for a teen with anxiety can be a daunting task, but by considering your teen's specific needs and evaluating the available options, you can find a program that will provide the support and guidance they need. Online therapy is an increasingly popular choice for families seeking mental health care for their teenagers. As you explore dual diagnosis care, virtual IOPs, online support groups, and individual online therapy, remember to consult with your teen's primary care physician or a mental health professional to ensure you are making the most informed decision for your teen's unique situation. With the right support and resources, your teen can learn to manage their anxiety and thrive during this challenging period of their life.

Stonewater's virtual IOP was developed by our team of adolescent experts to best fit the needs of teens and adolescents. To learn more about our program, click here.