Getting Your Recovering Teen Involved In The Holidays

By
Stonewater Recovery
·
2 minute read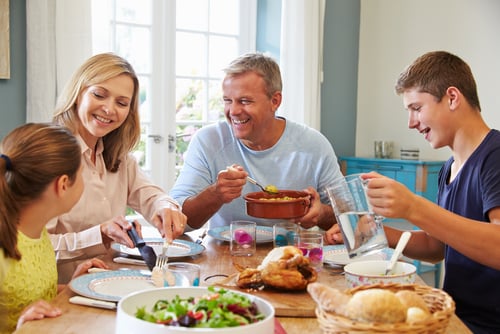 We like to think that when our teen comes home from residential treatment, they will be an entirely different child than the one we knew before treatment. Mostly, this is true. The drug addiction, the alcoholism, and the other varying forms of self-destruction our child was participating in are gone. We have before us a happier, healthier, more fully functioning child. We see the glisten in their eyes, the sincerity in their smile, and can feel the love from them in a more present way than we have felt in years. Still, our teenagers can act like teenagers act on occasion. Recovery from drug and alcohol addiction, even at a young age, does not ensure immunity from acting out, or being a teenager. Common teenage behaviors like laziness, involvement in friends, involvement in technology, hobbies, or passions, is common. Though we have been through a
lot
with our teen in treatment, including multiple family therapy sessions, their new lives of recovery may not include involvement with us, or the rest of the family- as much as we want. Still, whether they let us know or not, our teen is soaking up every glittering moment of holiday magic with a humbled sense of gratitude for their precious life.
The holidays are a special time of year to connect with our recovering teen and get them involved in the holiday celebrations. Here are some ideas to incentivize and inspire your teen to play a part in the holiday magic.
Plan New Holiday Traditions
Recovery is about reinvention and celebration. If old holiday traditions don't seem to be winning over your teen, ask them to help create some new ones. Holiday movie marathon? Inventing holiday desserts? Taking a holiday trip? Volunteering at the local soup kitchen? Donating warm clothing to homeless shelters? Give your teen an opportunity to express themselves and have the whole family support their initiative this year, and every year after.
Hold A Family Holiday Cook-off
Holidays and cooking go hand in hand. We don't always hand off the cooking to our children. Ask your recovering teen what cooking skills they learned in treatment and what kind of meal they might want to prepare for the family or with the family. Teens might have favorite recipes of their childhood they want to learn to cook with you or they might have ideas they want to create brand new.
Treatment during the holidays is a challenge because families want to be together. Addiction tears families apart. Now is the best time to set you and your family on course for total recovery. Stonewater Adolescent Recovery Center offers long term residential treatment programs for adolescent and teenage boys. Building positive foundations through life cleansing therapies, boys graduate from our program ready to take on life.
Call us today for information: 662-598-4214