Surgeon General Calls Vaping an Epidemic Amongst Teens

By
Stonewater Recovery
·
2 minute read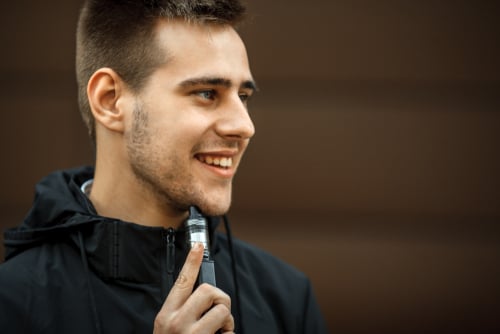 In December, the United States Surgeon General issued a warning stating that vaping has become a national epidemic amongst teens. Vice Admiral Jerome Adams quoted in his speech,
More than 3.6 million U.S. youth, including 1 in 5 high school students and 1 in 20 middle school students currently use e-cigarettes. According to those statistics, e-cigarette use has increased 78 percent during the last year which is alarming to say to the least.
The Surgeon General has emphasized the necessity of protecting our youth from the dangers of nicotine addiction and other risks that come from vaping. The recent surge in e-cigarette use among youth, which has been fueled by new types of e-cigarettes that have recently entered the market, is cause for great concern. Adams continued with, We must take action now to protect the health of our nation's young people.
Although the aerosol in a e-cigarette may be deemed as harmless, most of the e-cigarettes contain nicotine which was first recognized as an addictive drug in tobacco products such as cigarettes and cigars. The main function of the e-cigarette was supposed to help smokers to wean off the tobacco products to a healthier product that became known as the e-cigarette and proved to do just the opposite of helping smokers.
No one could have guessed that this epidemic would be so extreme, but teens have been able to get their hands on e-cigarettes due to the lack of regulation of the Food and Drug Administration (FDA). Now that so many teenagers are vaping, they have now changed their tune to support the fight against this epidemic and the liabilities that nicotine creates.
Nicotine can cause harmful effects on a teen's brain up until the age of 25 when the brain becomes fully developed. Having exposure to nicotine can impact the brain functionality of a teen which deals with attention, memory, and learning during one of the most formative times in their life.
Other perils of nicotine use include the potential to become addicted to nicotine which can be instrumental and will cause the need for adolescent vaping use treatment programs. The lungs also take a beating inhaling and exhaling the aerosol which not only has nicotine, but it could contain volatile organic compounds, heavy metals, and ultrafine particles that could subject the lungs to potential damage.
Along with the statistics and the dangers being publicized, The Surgeon General has asked for the help of parents, teachers, health professionals, and the community to take action in addressing the e-cigarette epidemic.
If you or an adolescent you know needs to get help for drug or alcohol abuse, Stonewater Adolescent Recovery Center can give you the guidance that you deserve. Establishing a strong network of family and community can reinforce practices for living substance free.
Call us today to start living in your recovery: 662-598-4214