The 411 on Teen Cell Phone Addiction

By
Stonewater Recovery
·
2 minute read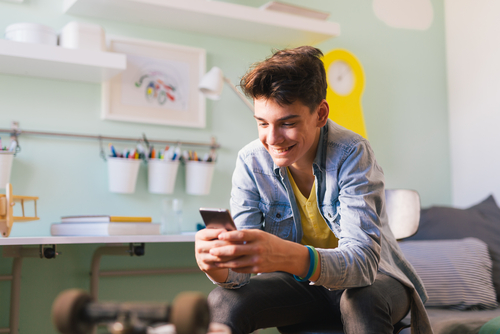 The world is full of phobias. Some them you may have heard of and others represent a lengthy unit in terminology that really has no reference to the word. N
omophobia is not being able to use a cellphone. While this fear may seem rather irrational, this is a real condition that has caused grief to many cell phone sufferers who cannot use their phone in the manner they would like, especially in teenagers.
Before 1997, not many consumers owned a cell phone. By 2008 when the Smartphone started to take over the cell phone industry and iPhones became competitively priced, more people owned cell phones which could do more than tell time and take pictures. Teenagers these days have never known a time that cell phones were not in existence, and some do not completely understand what the problem is with constant use of their phone.
The average number of times a teen unlocks their cell phone daily is 110.

A teen on average will check their phone every 4 minutes.

The surge in social media posts and videos takes up 27 percent of the upstream web traffic.
With the completion of text messages, emails, and social media posts, there is a release of dopamine in the human brain that also occurs when a goal is completed. For this reason alone, teens will find enjoyment in the activity that is going on with their phones without comprehending the negative aspects that too much phone time can bring about.
Teens today have had a spike in mental health issues which ironically correlates with when teenagers started to have cell phones as accessories rather than a way to communicate with their parents. Causation may not be a fact here, but it certainly creates a byproduct when a teen has attainable technology at their fingertips at every given moment. Receiving text notifications and how much a teen is liked can become the predominant motivation in their life which has only seemed to convey lower self-esteem when feeling rejected that only turns into more depressive states and higher risks of suicide.
Jean Twenge, a psychologist and Professor at San Diego State University, has been vocal about of the perils of what happens to teens who primarily use their phones to be social. Twenge has found alarming statistics with teens and their smartphones. Her research states teens spend approximately 5 hours a day on their devices that can lead to a 70 percent risk of suicide regardless of the content they are viewing.
The suggestion from Twenge is to get your teen off their phone and back into the reality of life. Giving them the physical companionship that they need will give their
mental health an opportunity to become unlocked more often.
Stonewater leads the way with progressive, evidence-based programming to most effectively treat each individual adolescent while focusing on the uniqueness of each client. Healing the mind, the body, and the spirit as one in the same can make the biggest difference in staying sober.
Call us today to start living in recovery:
662-598-4214