The Healthiest Diet for a Teen to Follow

By
Stonewater Recovery
·
2 minute read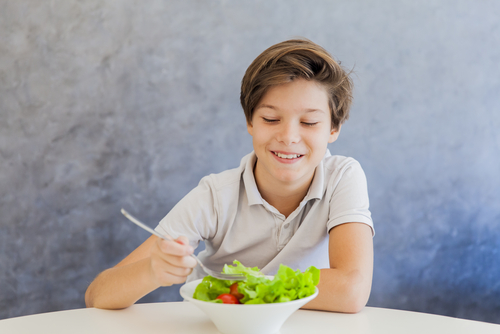 From toddler to teenager, getting your kids to eat a healthy diet can be a daunting task to endure. You want them to eat broccoli and spinach. They want is pizza and Lucky Charms. One of the reasons that teenagers want to eat processed foods with high sugar and fats is because their memories they have from eating these types of foods stem from birthday parties, holidays, or from a reward for a job well done. While changing their diet to something healthier may feel like the right thing to do, getting there may prove to be much more difficult with a teenager.
The reason why teenagers should follow a healthy diet is that they are growing at a rapid pace. Adolescents require foods that will support their body progression and will give them the energy that they need. Teens also need additional nutrients that will promote bone growth, will bolster the changes that take place within their hormones, and will better develop muscles and organs including the brain.
Eating a balanced meal will improve the healthful development of a teen.

Whole-grains are instrumental in giving your teen the feeling of being satiated with the intake of fiber. Consuming whole-grain breads and pasta along with brown rice are good choices in fiber and necessary nutrients.

Fruits and vegetables may not be your teens first choice in food. The best way to get Vitamins A, B, C, and beta-carotene without taking a multivitamin, is to eat fruits and vegetables in a variety of colors.

Low-fat dairy provides calcium that is beneficial for growing boys and girls. Calcium is most advantageous during the teen years because they can absorb the mineral into their bones while the bones are still growing and help to build bigger muscle mass.

Lean proteins contain amino acids which are the building blocks of cells, muscles, and tissues that are ever changing in a teen. With the right amount of protein in their diet, enzymes and hormones will remain in production to keep an adolescent's energy on point.

Healthy eating habits and engaging in regular physical activity will lower the risks of obesity and type 2 diabetes.
Eating healthy can be fun for teenagers and the whole family with some experimentation. Let your teen pick out a new vegetable or fruit each week and get them help you to prepare it. Ask them to search for a new recipe and learn how to make it together. Show them how to grow their own vegetables in the garden, so that they will take pride in eating their own harvest. Finding new and clever ideas to get your teen involved in your meals could make the difference in what they choose to eat ongoing.
Stonewater Adolescent Recovery Center offers residential treatment that is intended to equip your teen for the journey ahead. We offer a secure, compassionate, motivational space to develop abstinence and critical life skills.
Call us today to start living in recovery: 662-598-4214