Benefits of Nature Therapy

By
Stonewater Recovery
·
2 minute read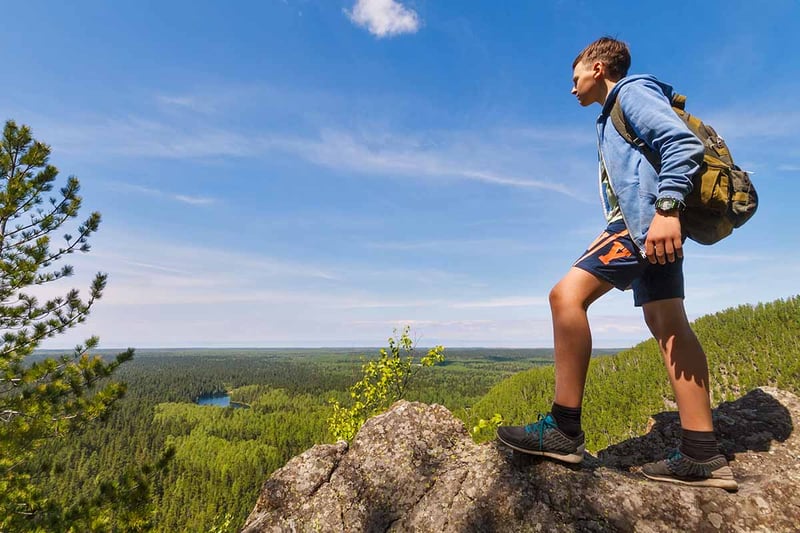 Sometimes, just getting outside is just what the doctor ordered. At Stonewater Adolescent Recovery Center, we offer various holistic therapy programs, such as adventure and nature therapy programs. We find that a combination of clinical and holistic therapies benefits our residents best. It's common for your teen to experience stress, anxiety, and depression as part of their substance use recovery. Being outside in nature can be one of the best ways to combat depression during recovery and reduce the body's reaction to stress. Plus, nature is a recovery tool that your son can take with him back into independent living to continue to be substance-free and prevent relapse. Our caring and talented team can guide you and your son through all of the treatment options available at our nature-filled, lakeside campus. Contact Stonewater Adolescent Recovery Center at 662.373.2828 to learn more about the available treatment options today.
What is Nature Therapy?
Simply put, nature therapy revolves around getting outside and enjoying everything about nature. A comprehensive substance use treatment program utilizes a combination of treatments and therapies with the goal of lifelong recovery. Nature therapy can provide your teen a more natural, and low stress, way to manage their symptoms, and this type of treatment is something your son can take with him and continue to do after leaving our treatment center. Nature therapy can include anything from taking a walk around the beautiful grounds of Stonewater, hiking through a challenging trail, to taking part in equine therapy.
How Can Nature Therapy Assist in Substance Abuse Recovery?
The benefits of nature therapy can help you or a loved one who is recovering from substance use. It's important to note that nature therapy cannot make the recovery process occur on its own. It can be part of a full treatment program, including individual therapy, family programming, group counseling, and more. It is a supportive treatment that enhances the recovery process and provides additional benefits more organically.
Improved Interpersonal Skills
Group therapy sessions are typically where those in therapy would work on interpersonal skills. But since that tends to be a subdued environment, it can make connecting with others more challenging. By participating in nature therapy through fly fishing or caring for horses, for example, your teen can work towards a common goal with a group in a more organic way. This makes working on those interpersonal skills a lot easier and seems less like work.
Exercise in Nature
Without a doubt, we can all benefit from more exercise. For those in recovery, it's even more critical. It helps your body release endorphins, which are the same brain receptors triggered when a person is struggling with a substance use disorder. Finding a way to exercise in nature only helps your son's recovery. Our campus is ideal for various activities like a friendly game of pick-up basketball, going horseback riding, or practicing yoga.
Stress Reduction
Stress comes with the territory for anyone struggling with substance use disorder. Your teen may be one of many who turned to drugs and alcohol as a way of coping with anxiety or depression. Nature therapy gives them another outlet to deal with their stress, anxiety, and depression in a much healthier way.
Contact Us Today To Explore Treatment Options
As a high-quality adolescent substance use treatment center, we provide our residents with the tools they need to succeed in lifelong recovery. Situated on 62 pristine acres of natural grasslands, our lakeside campus is the ideal place to experience the benefits of nature therapy. In addition to nature therapy, we offer a variety of therapeutic modalities, including:
Cognitive-behavioral therapy program (CBT)
Dialectical behavior therapy program (DBT)
Dual diagnosis treatment program
Yoga therapy
Call Stonewater Adolescent Recovery Center today at 662.373.2828. Our compassionate and highly-trained team is ready to assist you.