What Is an Adolescent Virtual Intensive Outpatient Program?

By
Stonewater Recovery
·
2 minute read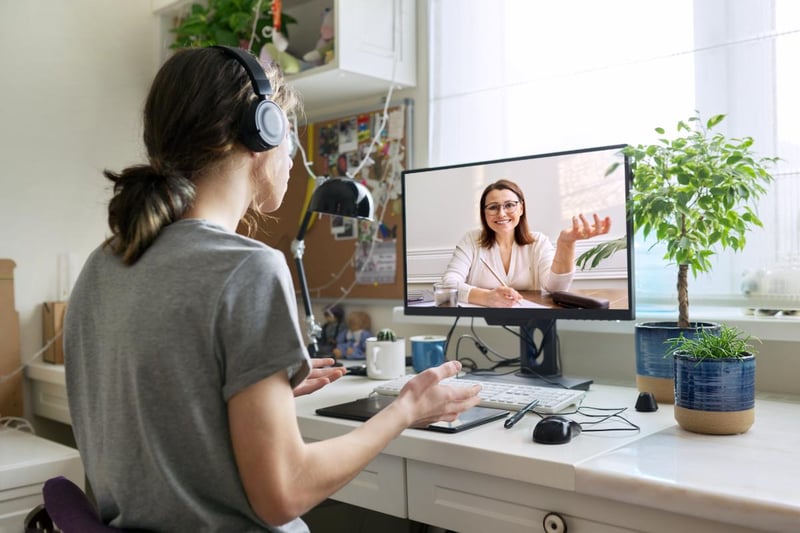 Is your child struggling to maintain balance in his life because of their mental health or substance use disorder? If so, then the flexibility of a virtual intensive outpatient program could be what helps him find his balance. A virtual IOP is an even more flexible option to receive treatment, especially during a public health crisis. It's a hard time for many teens who find themselves uncomfortable with the idea of participating in an in-person treatment program. Stonewater Adolescent Recovery Center does not have an adolescent virtual intensive outpatient program at this time. However, we can answer any questions you may have. At Stonewater, our residential treatment programs give teens a chance to get the support they need. Therefore, you can feel confident that they are getting the excellent level of care they need and deserve.
What Is a Virtual IOP for Adolescents?
The design of an IOP lends itself to teens who need to balance school and home life but have trouble managing issues related to their mental health or substance use. With a virtual option, your teen can expect a flexible yet structured weekly treatment schedule that can last up to 3 months. An online IOP can include:
Daily online sessions three days a week that works with your teen's schedule
An individualized treatment plan put together by a trained recovery counselor
Daily group therapy sessions
One-on-one video counseling each week
Family therapy video sessions are available each week
Interactive workshop sessions
Guided experiential therapies, like art, music, and pet therapy
Benefits of a Virtual IOP
There are many benefits of an adolescent virtual IOP.
Flexibility
This treatment is perfect for teens with a busy school schedule and those juggling multiple responsibilities. We realize that your teen may not have the option of leaving home to go to a residential treatment program or an in-person IOP. A virtual IOP allows them to attend sessions when and where it's convenient for them.
Social Distancing
We understand that safety needs to be a priority and that young adults are still figuring out their comfort zone when it comes to face-to-face interaction. Having a therapeutic option that limits physical contact with others is a must.
Customization
Individualized treatment is a must because no one's treatment and recovery look the same. A virtual IOP allows a high level of customization because of its flexible format. Your teen will be able to actively tailor their treatment to their needs alongside treatment counselors and do it all online.
Structure
Participating in a virtual IOP may end up being the most structured part of your teen's life. With so much uncertainty surrounding the world, having a regular schedule of treatment and appointments can be highly impactful. This consistency will also help them to learn the necessary coping mechanisms and skills to manage their disorder for the long haul.
Security
For those uncomfortable in in-person groups but also concerned about the security of participating in therapy online, a virtual IOP is a perfect option. Teens can talk about recovery and healing in their own space. A virtual IOP follows all HIPAA rules and keeps all information shared wholly private and safe.
Seek Support for Your Teen at Stonewater Adolescent Recovery Center
Though we do not offer a virtual IOP, Stonewater Adolescent Recovery Center can offer a residential treatment program. As part of our adolescent treatment center, teen boys can take part in a number of treatment options. Our trained and professional treatment team will work with you to ensure your son has the right program from our offerings at Stonewater. Our treatment options include:
Cognitive behavioral therapy (CBT)
Dialectical behavior therapy (DBT)
Experiential therapy programs
Family therapy programs
Art therapy programs
Give us a call today at 662.373.2828.