Benefits of Art Therapy for Teens

By
Stonewater Recovery
·
2 minute read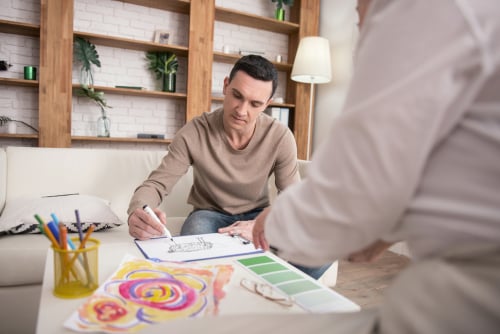 The teenage years can be rough for teens who have substance abuse or mental health issues that prevent them from expressing themselves in a positive or healthy manner. Your first inkling may be to sign your adolescent up for traditional therapy. While this gesture is one of love and support, some teens will not open up in their sessions making therapy purposeless to help their condition.
Since some teens already possess the ability to tell their parents and teachers want they want to hear, they will probably do the same with their therapist. In order to give each unique teen a recovery that is best suited for them, an adolescent art therapy program could be considered a solution to get a teenager to expand their horizons to help their recovery.
Art therapy is described by the American Association of Art Therapy as
the unique ability to unlock emotional expression by facilitating non-verbal communication. Art therapy provides an alternative means of communicating for those who cannot find the words to express anxiety, pain or emotions as a result of trauma, combat, physical abuse, loss of brain function, depression, and other debilitating health conditions."
What art therapy does for some people is to break down the walls much faster to get to root cause of their pain than a therapist trying to provoke them through their using words. An art therapist does not tell their clients what they need to create, nor do they try to interpret the meaning of their art. They allow their client to express themselves in a way that they have not done before regarding their substance abuse or mental health issues to encourage communication and trust.
By using pen and paper, paint brushes, sculpting clay, and other means of creativity, a teen can feel a freedom that may not have experienced before just by using personal techniques to resolve conflict and healing. Art therapy works by exploring a teen's pent-up emotions and becomes a huge stress relief that allows for self-discovery during the process. Once a teen begins to learn who they are through their creativity, then they can much easily develop coping skills to break through the symptoms of addiction and their mental health issues.
The best part of art therapy is that it can provide endless amounts of pleasure that camouflages what teens would normally perceive as confrontation. With enjoyment as the main motivator in such an unfavorable situation, a safe outlet is established to open the door for what needs to happen in a therapeutic setting - growth and harm prevention.
Stonewater Adolescent Recovery Center leads the way with progressive, evidence-based programming to most effectively treat each individual adolescent while focusing on the uniqueness of each client. Healing the mind, the body, and the spirit as one in the same can make the biggest difference in staying sober.
Call us today to start living in recovery:
662-598-4214