How To Find The Right Sponsor During Sobriety

By
Stonewater Recovery
·
3 minute read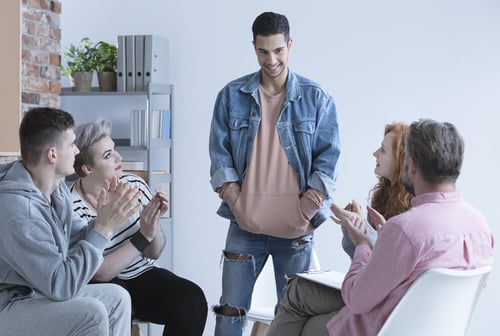 For some people, searching for a sponsor during sobriety can be an overwhelming experience. Countless questions and concerns arise during this process such as:
Is this person the right fit for my personality?

Can I trust this person?

Can my sponsor be my significant other?

Does this person truly understand what I'm going through?
Technically, according to
AA
and
NA,
a sponsor is a person who has completed the 12-Steps in the program and can help others do the same. Other programs may have different steps and philosophies on sponsorship, but really this process all boils down to one big question –
what's right for you?
Below are some key points, guidelines, and thoughts to consider when choosing the right sponsor.
The Importance of Experience
When considering a sponsor, you want someone who has been there and is actively involved with the program you are involved in. If it's AA, the sponsor typically has at least one year of sobriety, has read the program literature, and has been abstinent for two or more years. A sponsor who has already sponsored other members and/or has worked through all of the steps is ideal. Do your research on the program, ask lots of questions and find someone who truly understands the road you've been on and the one you're starting.
Trust Is Everything
During the initial phase of sobriety, you're at your most vulnerable. A sponsor is someone who you will be taking moral inventory with as well as admitting your deepest secrets, darkest fears, and major insecurities. So, trust is key in the relationship. Your sponsor should respect your confidentiality, as you should theirs and instill a feeling of safety without judgment. When getting sober, you will be working through some serious soul-bearing moments and trust is the key to a healthy sponsor-sponsee relationship.
Is the Person Truly Available?
During your initial time in recovery, you will need to trust that your sponsor can help you work through the steps any time - day or night – or, at the very least what is considered reasonable between the both of you. Trust your instincts and watch to see if someone you are considering a sponsor is on time to meetings, is available when you call, can attend meetings with you and can handle moments of crisis.
Get To Know Other Members During Meetings
During meetings, let others know you are seeking a sponsor. Getting to know others in a supportive environment like AA or NA, can help you in your search in finding the right sponsor for you and your needs. And if you can't find someone right away, there are some meetings that have temporary sponsors available.
No Romantic Interests
AA and NA advise choosing a member of the opposite sex to avoid any romantic entanglements. They believe choosing a same-sex sponsor prevents any potential complications, allowing you to stay focused on recovery. This also pertains to the gay or lesbian community where it would be better suited in choosing a sponsor of the opposite gender for the same reasons. However, it's important to note that no matter how you identify in terms of gender or are non-conforming when picking a sponsor make sure there are no romantic feelings, thoughts, or concerns involved – period. This tenant allows you to stay abstinent and focus all of your efforts on recovery.
Personality Plays A Role, but Different Can Work Too
A Sponsor-sponsee relationship needs to gel on some level, and it always helps if you share similar ideals, personality traits, and beliefs. Positivity is one of the most important traits you'll want in a sponsor. Having someone show you how their life benefitted from sobriety and focus on all the positives of better life choices can truly help those who are in their darkest moments. However, it's also okay if the person is different from you too. Differences force both of you to focus on your main goal - addiction and long-term sobriety.
Treatment for Addiction
The bottom line is, selecting a sponsor is a deeply personal choice, and what works for one person, might not work for another. One person might benefit from tons of phone-calls and a shoulder to lean on, while another may want more of a tough-love kind of approach during sobriety. Forming a relationship this important, with the right person, will ultimately result in keeping you on the right path to recovery. If you or a loved one is suffering from addiction or a substance use disorder and needs the right treatment, counseling, and encouragement to begin their road to sobriety, get help today. You are not alone-
call Stonewater Adolescent Recovery Center today at
(662) 478-9463.